Wash Bowls & Basins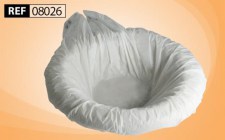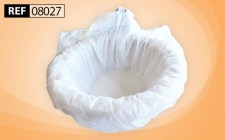 Description
Description
Patients' washing and general hygiene is a major area of concern for both short term and long term patients and those in residence (age & care homes).
Curas is offering a holistic and unique line up of products; from the daily wash to the high-risk patient treatment (e.g. MRSA) that includes Wash Gloves, Wipes, Examination Gloves, PE Aprons, Shoe Covers and the disposable Wash Basins & Bowls.
By offering a disposable 4L wash basin and a 3L bowl solution, Curas enables the procedure of patient washing to be undertaken in a safe and comfortable manner, and provides for the real-water bath (bed) setting in a way that is not compromised by the continued use of highly risk-associated reusable hollow ware and containers.
In the event of a high-risk situation Curas recommends the default use of SAP by Curas™ in order to stabilize the contaminated water inside the 3L or 4L product (bowl or basin) so that the entire content can be safely discarded through the waste management system, without the used washing water left exposed to the surrounding environment to further risks.
Packaging
REF 08026
QTY
Single Pack
-
WardPak™ ( Inner Bag )
25
Outer Carton ( Case )
100
KG per Outer Carton ( Case )

~

8
REF 08027
QTY
Single Pack
-
WardPak™ ( Inner Bag )
25
Outer Carton ( Case )
100
KG per Outer Carton ( Case )

~

5
REF 08028
QTY
Single Pack
-
WardPak™ ( Inner Bag )
25
Outer Carton ( Case )
50
KG per Outer Carton ( Case )

~

5
REF 08030
QTY
Single Pack
-
WardPak™ ( Inner Bag )
50
Outer Bag
100
KG per Outer Carton ( Case )

~

7