SAP in Vomit Bags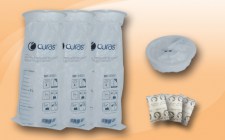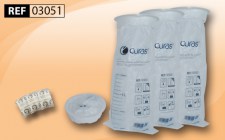 Description
Description
Curas Vomit Bag range is available to clinicians and healthcare providers throughout the world. Assisting in managing and reducing the real risks associated with outbreaks of human gastroenteritis Norovirus, the Curas Vomit Bags range achieves improvements to both patients, staff and relatives.
The upgraded vomit bag is now available through the innovations delivered by the unique model which is pre-equipped and pre-loaded with the well known SAP by CurasTM. By using this REF 03051 product; nursing staff benefit from the comfort and security of using a product better prepared to manage and hold the fluids collected by a disposable vomit bag, by means of the ready-for-use super absorbent polymer (SAP) resting in the vomit bags before use, and awaiting activation by initial contact to any fluid from a patient or user.
The default application of vomit bags - and in particular the special Curas version including SAP - reduce the risk of spills and accidents involving contagious fluids, and improves patient comfort and assistance.
The SAP is similar (in some cases identical) to the polymer used in incontinence diapers and female products, and is handled in the waste system as ordinary waste, unless the local waste protocol or content requires otherwise.