SAP Dissolvable Sachets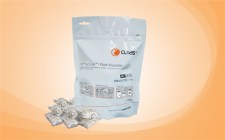 Description
Description
SAP by Curas™ includes the dissolvable sachet, which – once in contact with fluid – will start to absorb with immediate effect (usually ~15+ seconds after initial fluid contact).
The end-result of the process is a crystallization of the fluid mass which stabilize it and prevents it from moving, spilling or splashing.
The sachet of approx. 6g size is inserted into the hollowware at first and subsequently the contact with fluid automatically activate the product's performance without the need for the user to manually opening the sachet first; simply leave it in the e.g.:
Urine Bottle
Bed Pan
Slipper Pan
Commode Pan
Toilet Chair Bowl
Vomit Bag
Vomit Bowl
Hazard Canister
Infectious Bath Water Bowl
Modern healthcare providers are increasingly focusing on the dangerous aspects of airborne particles. The stabilization of any bodily fluid is a primary concern and thus priority – the answer to this problem lies in the SAP by Curas™ product line.